I går testet jeg ut PT time for første gang. Siden jeg selv holder på med utdanningen for å bli PT ønsker jeg å få et innblikk i hvordan det er å bli pushet av en PT, samt se hvordan de jobber. Det er nok ikke nok med bare en time for å få et helhetlig bilde, så det kan hende at jeg tar flere ved senere anledninger..
Spent som bare det troppet jeg opp på Mykjemeir sitt treningsstudio på Lysaker. Veldig fint lokale og jeg møtte bare hyggelige folk der. Fikk raskt se noen som ble pushet av PT og gledet meg ennå mer til min time. Rune Talset var min PT, og han klarte oppgaven med å slite meg ut, utmerket!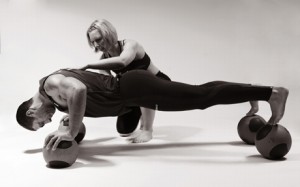 Bildet er fra Mykjemeir.no
Litt om opplegget:
Vi tok oss først en prat om målsetninger, ønsker for trening, skader/begrensinger osv. Deretter var det avgårde ut i salen.
Først kondisjon: Noen minutter oppvarming- jogging. Deretter 10 intervaller på 45 sek arbeid, 15 sek pause. Arbeidsperiodene gikk fra hastighet 11 til 14 i løpet av de 10 gjennomførte intervallene. SIden jeg ikke har trent noe særlig kondisjon på 6 uker (siden ankelskaden) var dette hard nok start for meg.. Følte meg fin etter kondisjonsøkten – veldig klar for styrke!!
Styrketreningen ble knalltøft!!
Først en runde på beina:
Høye kneløft på tjukkas i 30 sek.
90 grader i kneleddet med støtte til en vegg. Brukte en "ball med håndtak" (tror den var 6 kg?) som pendlet i en halsirkel ned og opp over hodet i veggen. 30 sek.
Lå på en benk på mage. PT gav motstand i det jeg bøyde knærne oppover, og også nedover. (liggende lårcurl og kneekstensjon) 30 sek.
Stod i planke posisjon med hendene på en tjukkas, begge beina på "catslides" som "gikk" i matta og tilbake med annenhverfot 30 sek.
Alt dette i to runder. KNALLHARDT for mine puslete bein..
Deretter en runde på arm, skuldre og rygg.
Armhevinger med hendene på en benk. 30 sek.
Dips på benk. 30 sek.
Rygghev med sidehev (vekter på 2 kg tror jeg?) 30 sek.
Også dette to runder – og da gjorde det virkelig vondt i musklene!!! Jeg skalv og klarte ikke så mange dips den siste runden – FYTTI!
SÅ begynner den mer ubehagelige delen av timen. I det jeg skulle forberede meg til boksing, blir det både litt svart for meg og jeg kjenner meg skikkelig uvel (svimmel og kvalm).. Det meste av matinntaket tidligere kommer opp igjen før jeg klarer å summe meg og gå ut igjen i salen. Fullførte timen med litt boksing og mageøvelse – men med noe mindre intensitet siden jeg ikke følte meg "helt bra".
Litt "skuffet" over meg selv om reaksjonen på å presse meg hardt. Har aldri hatt lignende opplevelser før, så det var litt kjedelig at dette skulle skje i min første PT time. Lurer på om det er flere faktorer inn i bildet som litt annerledes kosthold de siste dagene da jeg er borte og spiser "vanlig" mat, samt litt stress og lite søvn.. Vel, det får jeg aldri vite – men timen var ihvertfall TØFF!
Konklusjon: Jeg anbefaler en PT time på det varmeste. Har også bare positivt å si om timen til Rune. Tøff, inspirerende og effektiv trening, akkurat sånn jeg liker det! Om det er noe å utsette på PT timer så er det nok prisen, men det er jo som med alt annet – en investering, og dette er virkelig en investering som er verdt å ta!!
Dagen etter: Jeg kjenner meg overraskende fin i beina – trodde jeg kom til å være stiv som en stokk, men de tålte påkjenningen bra! Armene og skuldrene derimot gjør vondt, hehe. Faktisk litt problematisk å ta av/på gensere.. Det er dette som er gopain`:-)