Hei, her kommer et nytt gjeste innlegg med eksempel på hvordan man kan bruke kjøttkraft. I tidligere innlegg har jeg skrevet om hvorfor vi bør spise kjøttkraft, og hvordan det lages.
Kjøttkraft har en lang historie i det fleste tradisjonelle kulturer, for de som er intressert i mer av historien og de gode ernæringsmessige egenskapene kan jeg anbefale artiklene Broth is Beautiful, Why Broth is Beautiful og Stock fra The Weston A.Price Foundation. Det finnes også mange måter å lage kjøttkraft, for mer inspirasjon vil jeg anbefale blogpostene Ox Feet Broth, Miso Soup, and Other Soups og Bone Broth Revisited; and Pumpkin Soup fra den engelske bloggen perfecthealthdiet.com.
Etter som jeg har lest om kjøttkraft har jeg kommet over en rekke ordtak, her er noen av det jeg synes var gode:
  Troubles are easier to take with soup than without. (Yiddish) Drink a glass of wine after your soup and you steal a ruble from the doctor. (Russian) Headaches need soup. (Sicilian) Good broth will resurrect the dead (South American). Of soup and love, the first is best. (English, Spanish, Portuguese, etc…)  
Too many Cooks spoil the broth 
Indeed, stock is everything in cooking. Without it, nothing can be done. – Escoffier
 I dette innlegget vil jeg vise et forslag på hvordan man kan bruke kjøttkraft i hverdagen. Middagen jeg lager her er koteletter med kålrotstappe, kokte gulrøtter, søtpotet. Oppskriften på kålrotstappe fant jeg på matprat. Den enste forandringer jeg gjorde var å bruke kjøttkraft i stedet for vann.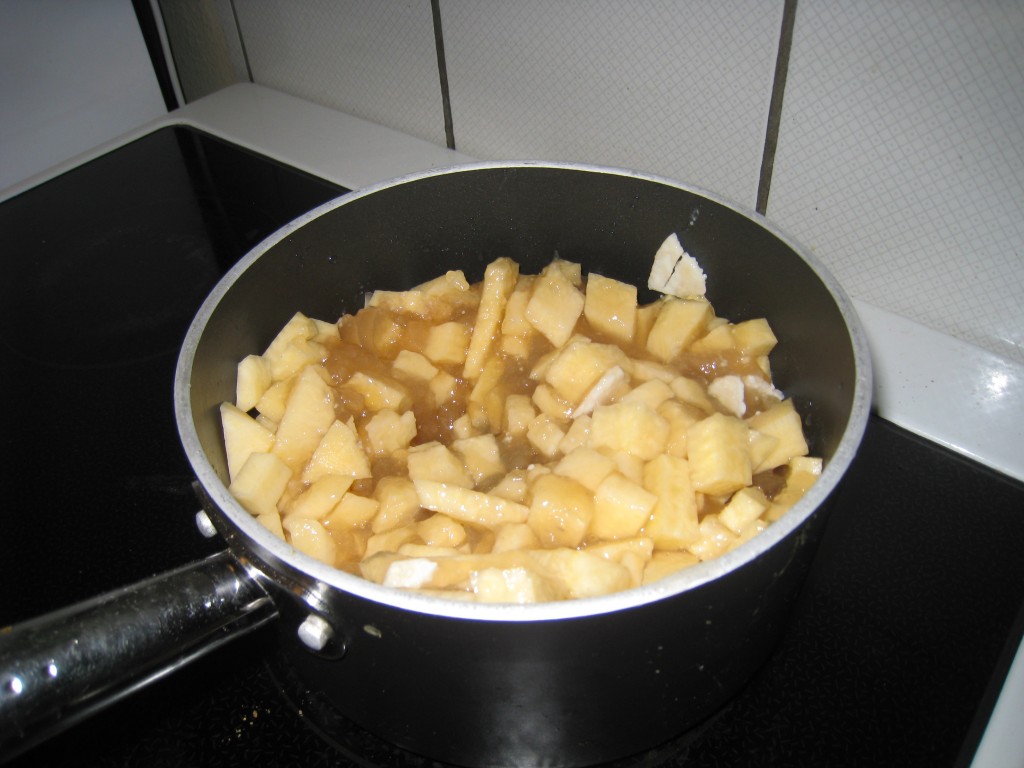 Når kålroten var ferdig kokt tømte jeg kjøttkraften over i en beholder. Som man kan se av bildet under tok jeg også litt av den varme kraften over i en kopp som jeg drakk mens jeg laget resten av middagen. Kjøttkraften hadde nå fått litt smak fra kålroten og det smakte som en mellomting mellom suppe og te. Godt var det ihvertfall.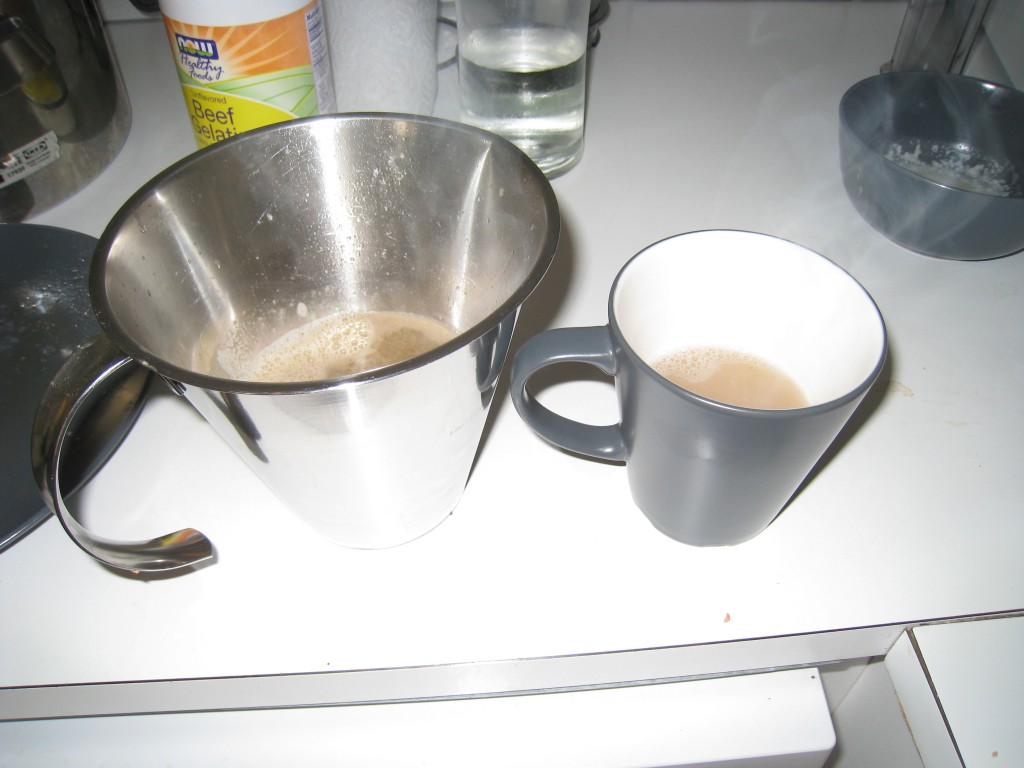 Kotelettene stekte jeg i en stekepanne. ca 3-5 min på hver side på litt over middels varme. Når alle kotelettene var ferdigstekt tømte jeg kjøttkraften opp i stekepannen for å lage en kraftfyll sjy. Når kraften hadde kokt ca 30 sekunder tømte jeg sjyen over i en skål som vist på bildet under.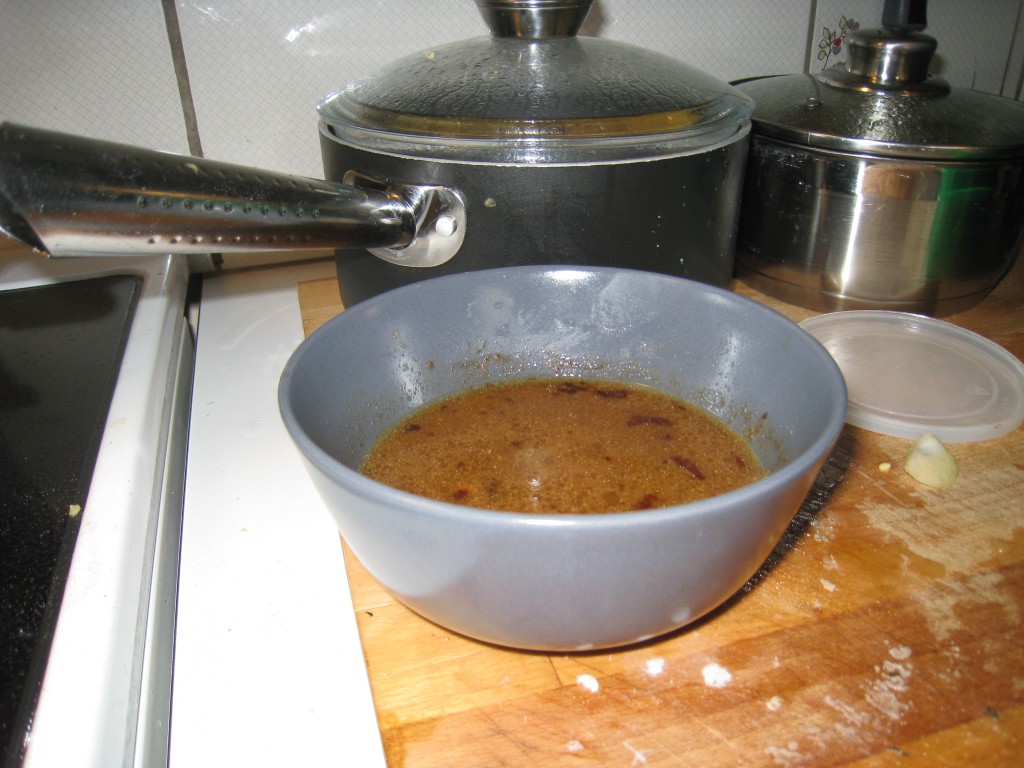 Til slutt ser dere det ferdige måltidet på bildet under. Sjyen gjorde måltidet mer saftig og gav det en litt mer fyldig smak.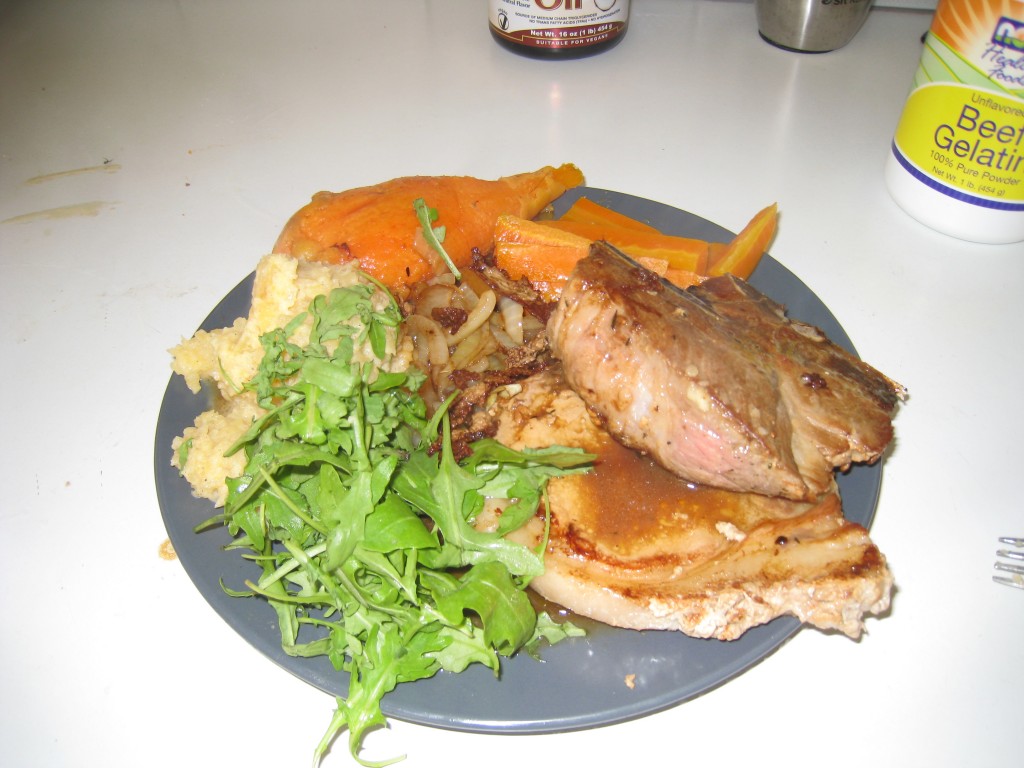 Et fremtidig eksperiment er å lag en kraftfull brun saus fra sjyen. Noen som har noen gode forslag? Jeg har testet litt med å bruke potetmel, fløtet og eggeplommer. Men har ikke kommet frem til en saus jeg synes er helt perfekt enda. En utfordring er å få sausen passe tykk uten å bruke usunne jevninger som hvetemel.