Hei, tenkte jeg skulle forsette med en ny gjeste post om kjøttkraft. I forrige blog post skrev jeg litt om hvorfor jeg tror kjøttkraft bør være en viktig del av kostholdet og nå er det på tide å sette det ut i praksis.
Under er et bilde av beina jeg startet med. Siden den største pannen min ikke er veldig stor begrenser det seg litt hvor mye kjøttkraft jeg får laget på en gang.
Ann Kristin, Mamma og Jeg kjøpte en hel hjort av naboen tidligere i år. Når vi skar opp kjøttet tok vi vare på beina slik at vi kunne bruke de til kjøttkraft ut over vinteren. Jeg bruker derfor bein fra hjort, men her kan det brukes bein fra alle typer dyr. Koketiden vil nok variere litt avhengig av størrelsen på beina og hvilke dyr de kommer fra. Hvis man skal kjøpe bein for å lage kraft anbefaler jeg å velge storebein med mye beinmarg. Disse er mest næringsrike. Det er også en fordel om beina er skjært i relativt tynne skiver da det er letter å få kokt ut næringstoffene. Et eksempel på gode bein er vist under.
For å utnytte kjøttbeina optimalt kokte jeg kraft på beina i to omganger.I første omgang kokte jeg beina i 4-5 timer. Når dette var gjort skilte jeg beina, kraften og det som var av kjøtt på dem som vist på bildet under.
Kjøttet og den første kraften brukte jeg til å lage suppe. Siden jeg hadde brukt øks for å dele opp beina var det en del småbein i kjøttkraften. Jeg brukte derfor en sil for å fjerne beina når jeg tømte kraften opp i suppen. I første omgang brukte jeg en litt grov sil som gjorde at noen av små beina havet i suppen. Etter hvert fant jeg ut at det beste var å bruke en litt finere sil som vist til venste på bildet under.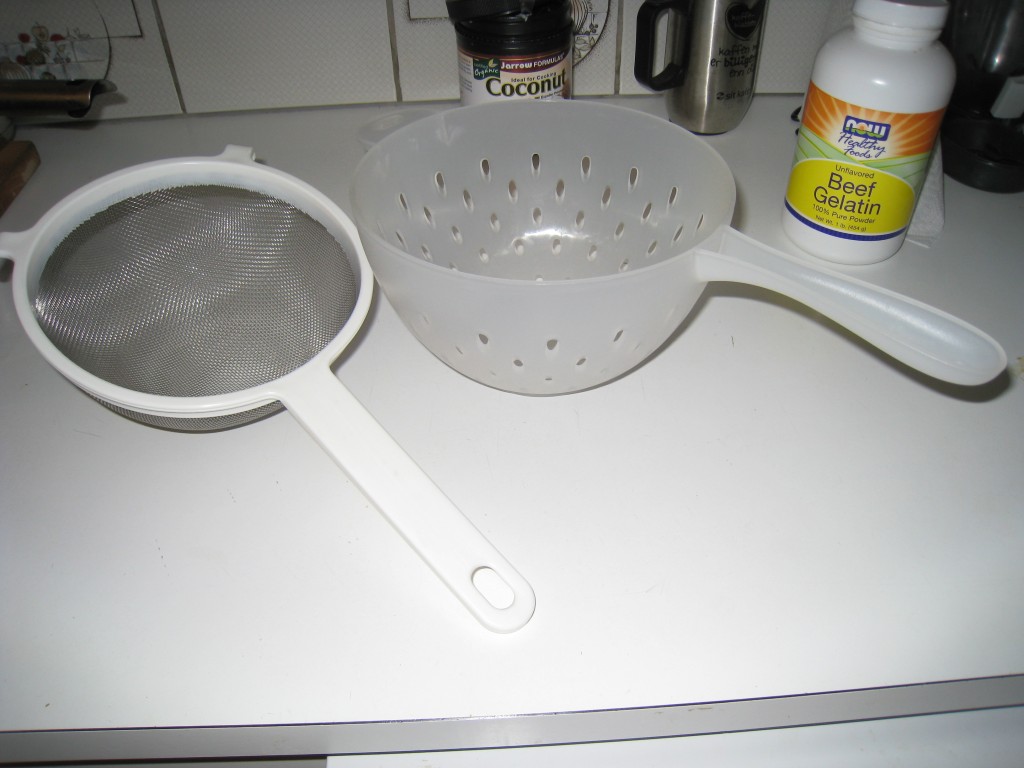 Kjøttkraften ser ikke spesielt appetittlig undervegs når man lager den, men det det endelige resultatet så både bra ut og smakte fantastisk
Samtidig som jeg laget suppen fylte jeg opp nytt vann til beina og sette de på kok igjen. Jeg lot de koke over natten til ca 1200 dagen etter på. Deretter brukte jeg brukte silen og tømte kraften over i en plastbolle som jeg sette i kjøleskapet. Såvidt jeg har forstått vil kjøttkraft stå seg i ca en uke i kjøleskapet. Når kjøttkraften blir avkjølt skiller den seg og det legger seg et fettlag på toppen. På bildet under ser man tydelig de to lagene. Det hvite er fett og resten er vann, gelatin og mineraler. Begge deler er næringsrikt og kan spises.
Når kjøttkraften ble nedkjølt fikk den en fastere konsistens,  dette skyldes gelatinen. Kraften får faktisk en litt gelé aktiv konsistens, noe som ikke er tilfeldig, da det er gelatin som gir gelé den karakteristiske konsistensen.
Nå har jeg mye kraft jeg kan bruke den kommende uken 🙂
Noen som har tips til hvordan det kan gjøres bedre til neste gang? Jeg er sikker på at det finnes mange gode gamle tradisjoner på dette rundt omkring i landet. En ting jeg vet jeg skal teste ut neste gang er å ha noe litt syrlig i kraften. Dette skal hjelpe på å løse opp beina slik at man får ut mer næringstoffer fra beina.