På bakgrunn av det forrige innlegget (rå eggehviter) ønsker jeg å utdype temaet litt. Dette vil ikke være en endelig anbefaling, men en utdypende forklaring med den kunnskapen jeg sitter med i dag. Dere må gjerne komme med innspill, og vise til andre innlegg om egg og forbruk av rå egg.
Egg er svært næringsrike og en viktig del av et sunt kosthold. Egg er en super proteinkilde, og gir oss alle de 9 essensielle aminosyrene. Du finner også vitamin A, B, E, D og K i egget og mange nyttige mineraler.
Mange velger å spise rå egg fordi noen næringsstoffer kan bli reduserte ved oppvarming (dette er sant for de fleste matvarer, men det er faktisk også noen næringsstoffer som blir mer tilgjengelige for opptak i kroppen ved oppvarming). Eggets protein er trolig mest tilgjengelig ved oppvarming, sannsynligvis på grunn av endringer i strukturen og da at fordøyelsesenzymene får bedre arbeidsforhold.
Salmonella
Ved graviditet, nedsatt immunforsvar og for svært unge folk bør man vurdere risikoen mer alvorlig.En risiko ved å spise rå egg er salmonella. Jeg trodde selv at vi var ganske trygge for dette i Noreg, men mulig dette er den godtroende siden av meg som snakker her. Ihvertfall ifølge en kommentar på facebook – (se innlegget tidligere) er salmonella mer utbredt i Norge enn man tror. Trolig kan noe av risikoen senkes ved å vaske eggeskallet, men det er også mulig at det finnes salmonella bakterier i eggeplommen på grunn av infeksjon i hønens reproduktive vev.
Biotin mangel
Eggeplommen er en rik kilde til biotin. Men eggehviten inneholder avidin, et glykoprotein som binder seg til biotin, og hindrer næringsopptaket. Avidin blir inaktivert ved oppvarming (koking, steking o.l.), noe som gjør at biotinen vil bli tatt opp i kroppen.
Det kan derfor være lurt å ikke bare spise rå egg, uten å vurdere et biotintilskudd. Jeg må derfor selv revurdere frokosten min som daglig inneholder to rå egg, eller jeg må ta et vitamin B tilskudd. Jeg vil da ta et tilskudd med flere B vitaminer, siden disse jobber sammen. Dersom de rå eggene spises  et par ganger i uken vil dette ikke være like nødvendig, men det kan da være nyttig å være obs på å få i seg nok av andre biotin rike matvarer, som innmat (lever og nyre), bladgrønnsaker, tomat, gulrot og nøtter. Man kan også vurdere å bruke eggeplommen rå, og eggehviten til oppvarming.
Altså: Rå egg kan fint være en del av ditt kosthold, men det kan være nyttig å tenke over mengden, og biotin inntaket, og eventuelt supplere med et vitamin-B tilskudd.
Kilder/ nyttig lesestoff:
Mark Sisson Blogg: Mark's Daily Apple. Post: Dear Mark; Raw eggs 
Mark Sisson Blogg: Mark's Daily Apple. Post: Eggs – It's What's for Breakfast
Mark Sisson Blogg: Mark's Daily Apple. Post: Egg purchasing Guide
Kriss Kresser Blog: chriskresser.com Post: Three eggs a day keep the doctor away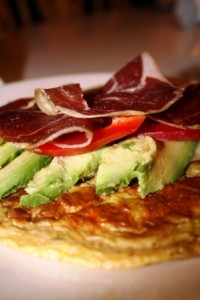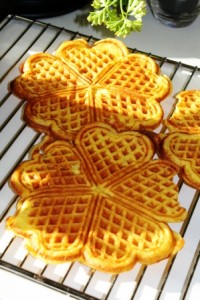 Pannekake av egg
med avokado, paprika og fenalår. Og
deilige vafler,
 hvor hovedingrediensen er egg. Blir nok mer av dette fremover, nå som jeg er klar over noen uheldige effekter av rå egg. Og/eller et B-vitamin tilskudd. 🙂 Håper dette var litt oppklarende.