Etter en lang (2 uker) sykeperiode er jeg nå så og si «friskmeldt» og jeg har to svært krevende uker forran meg. Dette krever nok og riktigmat, mye vann, rolig trening og en god porsjon konsentrasjon og motivasjon!!
SYKEPERIODE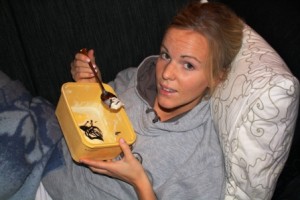 Tirsdag for snart to uker siden opererte jeg mandlene. Dette medførte noen smertefulle dager, lite (riktig) mat, ingen aktivitet, vektnedgang og en slapp kropp. Men nå kjenner jeg at alt dette går litt lettere og letter for hver dag og jeg ser virkelig lyset i enden av tunnelen. 🙂
KOSTHOLD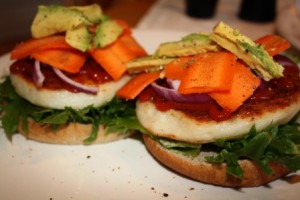 Fra i dag av skal jeg så lang som mulig tilbake til mitt hverdagskosthold. Og hva består egentlig det av da? Her er en liten smakebit for de som er interesserte.
– Melk og melkeprodukter: Skummet melk, kesam (både med og uten vaniljesmak), cottage cheese, philadelphia ost, plantemargarin, hvitost, brunost, skyr.
– Frukt, grønnsaker og bær: Her må jeg nesten si ALT. Jeg elsker frukt og grønnsaker og tester gjerne ut nye om jeg finner noe nytt i fruktdisken 🙂 De kan også være fra frysen eller hermetiserte. Også litt tørket frukt.
– Kjøtt og fisk: Fileter av laks, sei, torsk, ørret, svin, kylling, storfe og hjort. Karbonadedeig, fiskekaker, magre karbonader, kyllingkjøttdeig og litt bacon innimellom. Skinke på boks og pålegg, noe leverpostei.
– Korn og kornprodukter: Mest mulig fullkorn! Hjemmelaget knekkebrød, rugsprø, litt grovbrød, fullkorn tortilla, fullkorn pitabrød, grove hamburgerbrød, potetkake/lomper, fullkorn ris og fullkorn pasta. Sunne vafler og lapper.
– Nøtter: Ubehandlede nøtter! Valnøtter, mandler, cashew og pinjekjerner.
– Egg: Egg fra fjøsen vår, feske hver dag 🙂
TRENING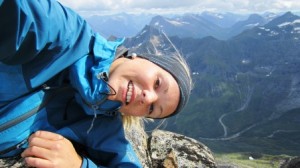 Jeg må fortsatt ta noen forbehold til treningen pga. operasjonen. Det blir rolig aktivitet og litt styrketrening. Prøver å få en klatreøkt og noen langturer på slutten av uken.
UTFORDRINGER, KONSENTRASJON OG MOTIVASJON
Dette var et stolt øyeblikk. Det gir meg motivasjon til å stå på for det jeg tror på og gir meg følelse av at jeg kan klare det – uansett!
Neste mandag braker det løst, da er det første eksamen av to denne perioden. Den andre neste fredag. I tillegg har jeg en deadline på mandag. Skal skrive en artikkel for birkebeinermagasinet – kjempe spennende, følg med så får du vite mer etter hvert 🙂
Motivasjonen er der, nå gjelder det bare å finne konsentrasjonen. Litt vanskelig etter en slik «slapp periode», men nå har jeg litt press på meg så da kommer det som regel – krysser fingrene for det 🙂
Ønsker deg en fin start på uken 🙂